Suggest a Pet Contest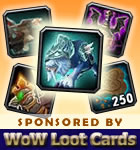 We're excited to announce our next big contest! For WarcraftPets' Suggest a Pet Contest, we'd like you to submit an original idea for a pet, along with a brief description and a special animation. Winners will be chosen at random. However, you must adhere to the guidelines below to be eligible for the prize drawings.
If you'd like to enter, please review the guidelines below and the contest terms to find out how you could win one of three amazing prize packages:
Contest Ended:
Our Suggest a Pet Contest officially ended at 11:59 PM (EST) on December 11, 2009. The winners have been
announced
and we've posted some of
our favorites
of the 1,500+ entries we received.
1st Place: Spectral Tiger Cub and Imp in a Ball
2nd Place: FigurePets and Tuskarr Kite
Set of Series 1 FigurePets (Speedy, Clockwork Rocket Bot, Stinker)
Tuskarr Kite TCG loot code:
3rd Place: Loot Choice
Choice of one (1) TCG loot code:
How to Enter
Within an email message, suggest an all-new vanity pet. Your entry must include:
The name of the pet.
A brief description of the pet.
A unique idle animation for the pet. Be creative!
Your full name and mailing/postal address.
Again, your submission won't be judged but it does enter you into the contest. Plus, we'd love to post a handful of the more amusing and unique ideas we receive. And who knows? Perhaps Blizzard will see a few of these ideas and be inspired!
Questions and Answers

How will you choose the winners?

Winners will be chosen at random from the pool of eligible contestants. The first contestant chosen will be considered the first place winner; the second contestant chosen will be considered the second place winner; and so on.
To be eligible, contestants must supply their pet suggestion as outlined above and reside in a state or territory that is "contest-friendly."

Could my suggestion end up as an official WoW pet?

WarcraftPets has no official ties to Blizzard Entertainment, Inc. As such, these submissions will not necessarily impact the development of future companion pets. However it is possible that a WoW developer will see your suggestion on our site and be inspired by your idea.

How will I be notified if I win?

Each winner will be contacted via email with information about claiming his/her prize (so be sure to add WarcraftPets.com to your trusted senders list). Winners who respond to claim their prize will be announced in our
news
section.

Will my name or address be shared?

No. We keep this information on file only in the event that you win. If you win, we will post only your name in our news section.

Do I need an active WarcraftPets account to enter?

No. All visitors to the site may enter the contest, whether they are site members or not.

I already have the prize I won. Can I choose a different prize?

Any prize may be substitued with a prize of a lesser tier. For example, the 1st place winner may freely opt to receive the 2nd or 3rd place prize at his/her request.

Can I submit more than one pet suggestion?

No. This contest is limited to
one entry per person
. Multiple entries by the same person will disqualify all entries.
For additional information, be sure to read the Suggest a Pet Contest Terms.
Official Sponsor
We'd like to thank WoW Loot Cards for helping to make this contest possible.