Ad-It-Up Contest
We're excited to announce our first major WarcraftPets contest! Our Ad-It-Up Contest is underway with some fantastic prizes for the winner and runners up! We're looking for a set of four (4) attention-grabbing web ads to help promote our site. And who better to create these ads than our biggest fans?
Contest Ended:
Our Ad-It-Up Contest officially ended at 11:59 PM on May 24, 2009. Visit the
Ad-It-Up Gallery
to view the winners, Top 10 runners up, and other memorable entries.
If you'd like to enter, please review the contest terms and see below for technical guidelines and prizes.
1st Place: Loot Choice
Choice of one (1) TCG loot pet code:
2nd Place: Second Choice
Second choice of one (1) TCG loot pet code (choice of any not picked by 1st place winner).
3rd Place: Pet Biscuits
Ad Content
Submissions must include a set of four (4) ads of different sizes. All four ads should feature the following elements:
WarcraftPets logo - Download high-res versions of our logo here:
EPS & TIF Logos
Graphics - Consider using pictures of pets, checklists, Breanni, original artwork, screenshots, etc. You may freely use and transform any graphics featured on our site when creating your ads.
Consistent theme - All 4 ads should share the similar colors, styling and graphics.
Text - Add a few words or phrases to promote the site. Be creative! See the samples below:

Data & pics for EVERY vanity pet!
What's in YOUR collection?
Companion collecting FTW!

Your text must be original! I.e., do not use existing catch phrases like "Gotta catch 'em all." You may, however, use variations on such phrases.
Technical Specs
To qualify, all submissions must:
be submitted as high-quality jpegs
include four (4) ads total at the following sizes:

Banner: 468 x 60 pixels
Small Square: 200 x 200 pixels
Tower: 120 x 600 pixels
Wide Tower: 160 x 600 pixels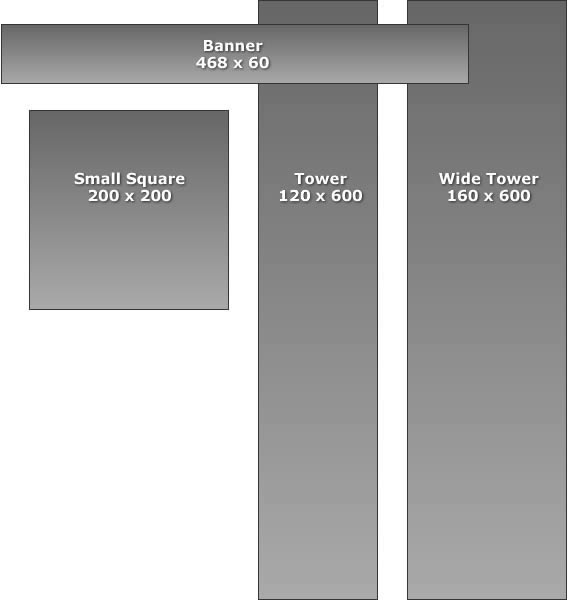 Questions and Answers

How will you choose the winners?

We recognize that not everyone is an artist, so we'll be judging submissions based on a variety of criteria. Ads don't have to be "professional"—anyone can win, but we'll be looking at several things when we choose our winners:
concept
originality
use of color
visual style
impact
choice of text and phrases
whether the ad captures the "spirit" of the site

Could my ads be used as the official WarcraftPets ads?

It's possible. We'll likely choose the most professional sets (but not necessarily the winners) to represent our site.

Can I create animated ads?

No, we'd prefer static artwork.

How will I be notified if I win?

Winners will be announced in our
news
section. Additionally, each winner will be contacted via email with information about claiming his/her prize.

Do I need an active WarcraftPets account to enter?

No. All visitors to the site may enter the contest, whether they are members or not.

What do you mean by a
high-quality
jpeg?

The quality of a jpeg is usually treated as a percentage. We're looking for jpegs close to 100% with little or no compression. If you're unsure, just select the highest value that your image editing software permits.

When I submit my entry, my email bounces back. What should I do?

Your files may be too big. Try zipping them or sending each one individually.

I have all the TCG loot pets. Can I get a different prize?

Any prize may be substitued with a prize of a lesser tier. For example, the 1st place winner may freely opt to receive the 2nd or 3rd place prize at his/her request.

Can I submit more than one set of ads?

Yes, and doing so may improve your odds of winning. However, you'll only be eligible to win one prize.
For additional information, be sure to read the Ad-It-Up Contest Terms.