Our team has been hard at work on a variety of major site upgrades. Among them are some exciting new improvements for your pet collection.
Improved Collection Tracking
Topping our list are significant improvements to collection tracking. Once you've had a chance to
update your collection
, it will show:
Pet Levels - Found in the lower righthand corner of each pet.
Pet Rarities - Denoted by the color of a pet's border.
Pet Stats, Breed and Gender - Available when hovering over a pet.
Pet Names - Seen in bold when hovering over any pet that's been named.
Duplicate Pets - Any duplicates you've collected are lightly shaded in orange. However, duplicates do not count toward your pet total.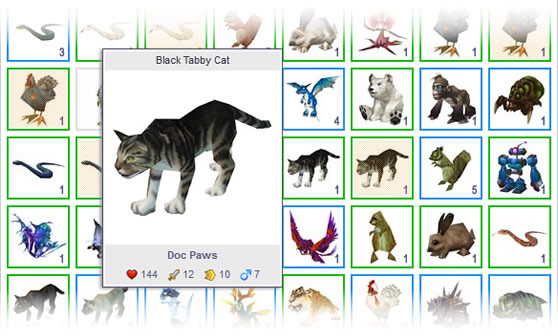 Along with these updates, you'll now be able to use our
pet filters
to filter your list of collected pets by rarity. And of course, you can apply additional filters to break down your collection even further.
In addition, your pet collection can now be accessed on its own page, rather than being buried within your profile. This makes it easier to share your collection with friends. Check your
Account Management
page for the link.
Pet Profiles Show YOUR Pets
Whenever you visit a pet's profile, if you've collected that pet, its stat calculator (found under the
Battle Info
tab) will automatically adjust to your collected pet's stats. It will show your collected pet's level, rarity and breed. This allows you to easily adjust the stats of
your own pets!
Pet Collection Stats
As you browse though pet collections (your own and others), you'll notice a table featuring some juicy new pet collection data.
Ever wonder what percentage of your collection is made up of rares? Or how many pets you've raised to the max level? This table tells all!

But wait a minute... what's that "pet score" thingy...?
Introducing Pet Score
Pet score
is a numerical assessment of your pet collecting efforts. Your score is primarily determined by the total number of unique pets you've collected. But your pets' quality and their levels also play a role. Here's the formula:
2*(total unique pets)
+ 4*(avg. pet level)
+ 1*(total common pets)
+ 2*(total uncommon pets)
+ 3*(total rare pets)
+ 5*(total epic pets)
+ 10*(total legendary pets)

---
Pet Score

Duplicate pets are not counted toward pet score in any way. We only count the highest level pet of the highest rarity you've collected. In addition, duplicates are not factored into pet stats.

More info

IMPORTANT!

Until you

update your collection

, your pet score will be zero. Once most people have had a chance to update their collections and unlock their pet scores, we'll begin using this value as the primary ranking mechanism for user lists on our site.

Retired Features

To make these collection enhancements possible, we've been forced to retire a few of our other methods for updating your pet collection:
WarcraftPets Express - We know many of you enjoyed using the addon, but it's incompatible with our new system.
Manual Updating - Yes, that gigantic list is a thing of the past.
All pet collections recorded on our site are now imported via the official WoW Armory. This means that you'll need to enter your
in-game data
(if you haven't done so already) to continue maintaining your pet collection. Limiting collections to Armory imports has the added bonus of making our data more consistent (i.e., no more false collections).
Other Updates
What could be better than all of these sweet new pet collection updates? More updates!
Ability Autolink - We've added an "Ability" button to our forums and commenting UI to easily autolink to pet abilities. (NOTE: If you don't see the button, refresh your browser.)
New Pet Filters - In addition to collection rarity, we've added a couple more pet filters under Pet Properties. New filters include "Is new" and "Has alternate skins".
Guide to Pet Breeds - We've pulled the "Pet Breed" section out of our Guide to Pet Battles, expanded it, and developed it as a stand-alone guide.
A Special Thanks
None of these updates would've been possible without
Weena
, our Lead Web Developer. He works diligently behind the scenes to make this site a success. Here's to another job well done, Weena!
And while I'm handing out the thanks, I'd also like to thank our
Site MVPs
for all of
their support
. You guys are definitely one of the reasons why WarcraftPets remains the best site around for pet enthusiasts. Thanks!