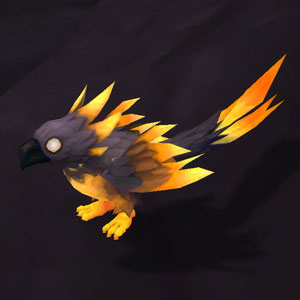 Thanks to the
WoW Secret Finding Discord
, a new battle pet has been discovered —
Phoenix Wishwing
(pictured right)
!
To collect this pet players will need to procure the following:
The Phoenix Ash Talisman is sold by
Zektar
in Spires of Arak (may require some zone-campaign progression to see this NPC).
This Arakkoa vendor won't give up this talisman easily, though. In order to buy it you'll need to collect:
Note that the Glittering Phoenix Ember can only be looted from Alysrazor during Cataclysm Timewalking (Firelands raid). This event is going on right now this week, so be sure to find a group and defeat Alysrazor, or you'll need to wait until the next Cataclysm Timewalking event comes around.
Once you've purchased the talisman using the reagents listed above, and have the feathers and ashes previously mentioned, head to
Tarjin the Blind
on The Waking Shores to collect your new phoenix companion!
We're ecstatic that another previously
datamined pet
has been discovered. We'll be adding Phoenix Wishwing to our database as soon as we can, thank you for your patience!